Eco-Lighthouse
We are actively working to reduce energy consumption, produce less waste, and reduce water usage and pollution.
Since spring 2015 we have been certified as Miljøfyrtårn - Eco-Lighthouse – which commits us to continuously seek out better environmental solutions and focuses on the environment as a natural part of our corporate culture.
Regarding waste we work to reduce, reuse and recycle.
Eco-friendly food
Thinking globally and acting locally, we marry the native Western Norwegian fjords produce up with international cuisine ideas. We work closely with our local suppliers - farms in walking distance from the hotel - and take pleasure in everything that we can offer from Fjord Norway's own pantry: fish and seafood, venison, lamb, cheese, berries, vegetables, herbs, etc.
What makes (common) sense?
Sure, any reduction of animal products is beneficial for our bodies, our animal friends and our planet, but you don't dine in these circumstances every day, the animals here in Fjærland really do seem to have a nice life, and the organic practices here are nothing close to factory farming. Just take a walk in any direction to see them grazing and chilling in wild. Just like in humanity's ancient times, our animal-derived meals are more of an occasional celebration, rather than everyday staple. And that means sustainability. Using animals in any way shape or form and talking about their welfare is arguable, and some of the members of our staff are against it - but for many it's just the way things are, and hopefully with developing knowledge, technologies and shifting mentalities (including our own), we'll be gradually gravitating towards a speciesism-free world. But an all-or-nothing attitude hardly ever works and in the meantime, our current generations are still pretty meat-y, so we want to provide them in a most progressive (or back-too-roots) way possible. Occasional, after an animal's good life, organic. Sounds familiar?:-)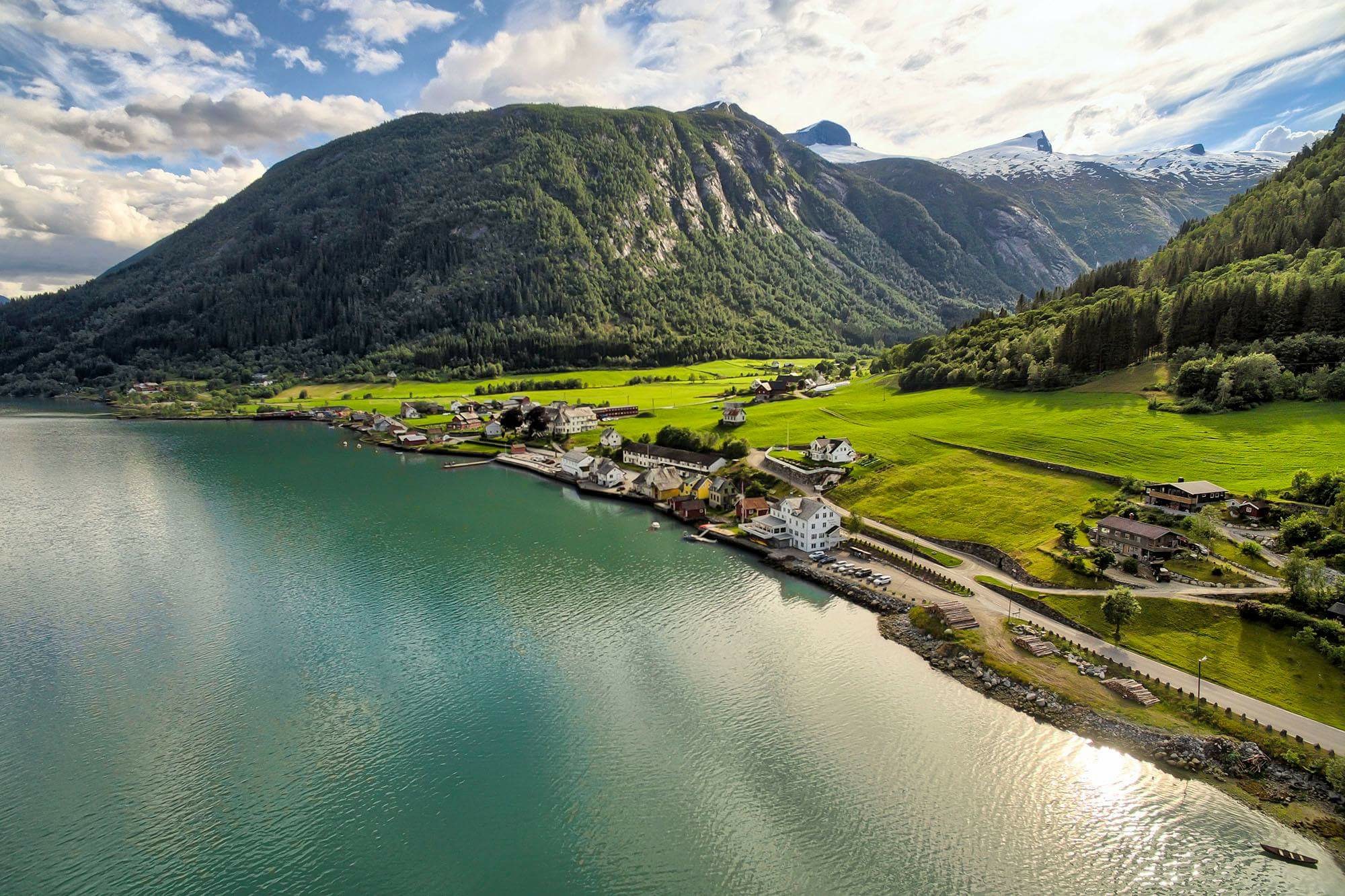 The tiny village of Fjærland is made special by its compactness:
It's very small, but it's been gathering numerous tourists throughout its history, and plenty of nationalities visit it. In our 15-room hotel we tend to have around 30 different nationalities per month. On the other hand, thanks to its small size and capacity, it's not flooded by hoards of mass-tourists like some other places.

It has about 300 inhabitants, and in our humble opinion, the local community is genuine and sweet.

It has mountains, valleys, forests, farms, and above all, it is where the glacier meets the fjord. That has all kinds of lovely effects, like the view from our hotel, the glacier-minerals-sparkling-green color of the water in summer, the access to glacier walks, kayaking, swimming, fishing, and so on.

It has a varied choice of multiple tracks for walks, cycling and mountain hikes depending on the level of activity that one is into.

It's a host to the famous, highly educating & entertaining Norwegian Glacier Museum and Climate Center.

It's a Book Town, with books stored in cute little places, like shelves, abandoned buildings, etc. Every summer a festival called "Book night" takes place here.

Its beautiful castle-like hotel Mundal was financed mostly by the local farmers, designed by a famous Norwegian architect Peter Blix, and started operating in 1891.

It has a nature reserve, delta Bøyaøyri, an extremely important ecosystem, where there up to 100 different species of birds has been observed.

It has typical Norwegian mountain summer farms, called hjemmestølen and fjellstølen, where the cattle graze after the snow is gone, and the local farm girls would stay and make cheese and handcraft in the past.

It was ranked, by The National Geographic Traveler magazine in 2010, as the most interesting place to visit in the world.

It is said to have contained remains of viking settlements.

It's one of the first places where the phenomenon of mass tourism in Norway started in general. That is due to the shortest distance from the shore to the glacier.

It was, until 1986, when the first tunnel was built, accessible only by boat or by walking through the mountains, and thanks to a glacier-minerals-rich soil it has sustained its population throughout centuries.

Its fjord water hardly ever freezes, but thanks to a layer of fresh glacier water it is possible. One can then cross the fjord by walking, skiing, or using a car.

It is characterized by rapid landscape variation, from fjords and lowland to mountains and glaciers. Its area has been shaped through successive ice ages during last 2,5 to 3 million years. Its towering mountains and u-shaped valleys surround large delta areas formed by the accumulation of sediment supplied by the glacier rivers.

Its flora is a great variation in vegetation, with warmth-loving plants in the lowland, alpine vegetation on the mountains, and a mixture of coastal and inland plants.

Its fauna is a varied wildlife, like dear, lynx, weasel, golden eagle, lemming, ptarmigan, etc.

It's a good connecting point between many other places, like Aurland, Geiranger, Loen, etc.

And finally - it provides location to our Fjærland Fjordstove hotel, an important unit that strives to give back to the village.
We are proud
To be members of De Historiske Hotel & Spisesteder - The Historic Hotels & Restaurants, among many other of Norway's most charming places. Its aim is to use the past as a backdrop for the guests, to enable them to create their own history based on experiences.